Why Choose Damon
The Damon System is not just about revolutionary braces and wires, it's a whole new way of treating patients. Traditional treatment often requires removal of healthy teeth and/or the use of palatal expanders to make space. This approach is often uncomfortable, takes longer, and can leave a narrower arch and a flat profile. Damon smiles are full, natural 10-tooth smiles achieved with light biologically-sensible forces, and are specifically designed to improve the overall facial result of each patient.
---
The Most Advanced Technology
Like fingerprints, your smile is unique. So why shouldn't your orthodontic treatment be too? Imagine walking into a store looking for headache medicine, chance are you will be presented with a lot of choices that are not specific to your headache. Now, imagine walking into that same store only to find headache medicine built just for your specific need. Pretty cool, right? Well, that is what Insignia does for braces…a truly customized approach to orthodontic treatment.
---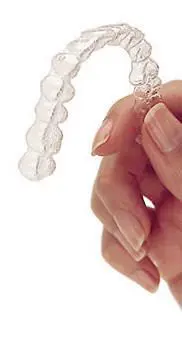 The invisible way to straighten your teeth, without braces.
Invisalign® can give you the beautiful straight teeth you've always wanted. It works through a series of invisible, removable, and comfortable aligners that no one can tell you're wearing so you can smile more during - and after - treatment. Invisalign® has been proven effective in clinical research, and in dental and orthodontic practices nationwide.
How Does Invisalign® Work?
You wear each set of aligners for about 2 weeks, removing them only to eat, drink, brush, and floss.
As you replace each aligner with the next in the series, your teeth will move – little by little, week by week – until they have straightened to the final position your orthodontist or dentist has prescribed.
You'll visit your orthodontist about once every 6 weeks to ensure that your treatment is progressing as planned.
Total treatment time averages 9-15 months and the average number of aligners worn during treatment is between 18 and 30, but both will vary from case to case.